Repair of Ceramics, Pottery, China, Porcelain & Terracotta
Welcome to Ceramics Repair - we offer a ceramics repair and restoration service for pottery and ceramic items including bone china, porcelain, terracotta, stoneware and earthenware.

We offer ceramic repair to suit most budgets - whether you require museum standard restoration for a valuable antique or a budget repair for a sentimental pottery item. We have a number of select restorers to pick from, each offering a service suitable for different ceramic repair requirements.

At Global Ceramics Repair our restoration team welcomes both individual and museum status projects. Our restorers have carried out prestigious ceramic repair work for Dyson Perrins Royal Worcester Museum and other museums all around the globe and have extensive practical knowledge and experience of china doll and china, porcelain and earthenware figurine repair, conservation and restoration. They have also undertaken ceramic restoration projects for auctioneers Bonhams and Christie's and also a number of professional ceramics and pottery dealers across the country and abroad.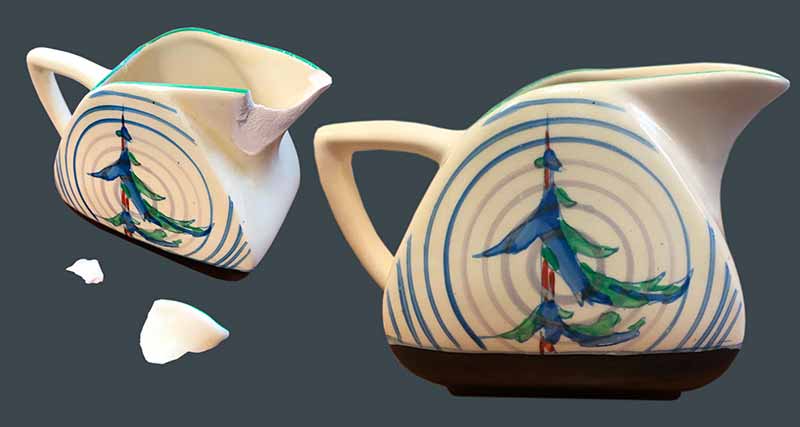 All repairs and restorations are appraised and considered. We offer a custom made packing kit, which we can send you, along with instructions to make the repair process safe and easy for dispatch. On offer also is a high-quality budget ceramic repair service for the repair of lower value sentimental items.
Our customers say...
Capo-di-monte Figure Repair
"A quick letter to say thanks for an amazing job, it would be a pleasure to use your skills in the future."
'Delicia' Clarice Restoratione
"Dear Sir/Madam, Please find enclosed my cheque for the restoration of my 'Delicia' Clarice Plate. Thank you for an excellent, professional restoration which has far exceeded my expectations. I am very grateful that you have restored it to its former glory. Your communication throughout has been impeccable. I cannot emphasize enough the quality and standard of your work. Once again, my sincere thanks, I am delighted."
Lladro Figure Restoration
"We have just received the Lladro figure you have restored. To say we are astounded is an understatement, it is a magnificent piece of restoration and it is impossible to see where the breaks occurred. We are so pleased we are sending another Lladro figure broken in the same incident and are totally confident it will be restored perfectly. Cheque enclosed. Best wishes and thank you."